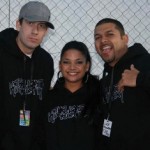 The Last Kinection (TLK) are a hip hop trio from Newcastle, comprising Joel Wenitong (Weno), Naomi Wenitong and Jacob Turier (DJ Jaytee).
The Last Kinection's debut album, Nutches, was featured on Triple J and community radio across Australia. They followed this up with The Next Of Kin last year.
They have played at major festivals throughout Australia including The Dreaming, Groovin' The Moo, the Sydney Festival and many more.TLK won 'Most Outstanding Achievement in Hip Hop and R&B' at the Deadly Awards in 2009 and 2010. Naomi Wenitong also won 'Best Female Artist' at the Deadlys in 2010.
Follow them on Facebook http://www.facebook.com/thelastkinection