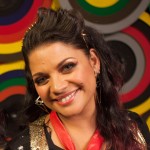 Naomi Wenitong, from Cairns, shot to stardom along with Simone Stacey as Shakaya in 2001. In that year they were signed to Sony Music and in 2002 they released their debut single Stop Calling Me, which peaked at number five on the ARIA charts. Other hit singles followed, including Sublime and Cinderella.
In 2006, Naomi joined Hip Hop band The Last Kinection (TLK) with her brother Joel and Jacob Turier (DJ Jaytee). The Last Kinection's debut album, Nutches, was featured on triple j and community radio across Australia. They followed this up with The Next Of Kin in 2011. They have played at major festivals throughout Australia including The Peats Ridge Festival, The Dreaming, Groovin' The Moo, the Field Day Festival, the Sydney Festival and many more. The Next of Kin was released in 2011 and contains that year's Deadly Award winning Single of the Year – Happy People.
TLK also won Most Outstanding Achievement in Hip Hop and R&B at the Deadly Awards in 2009 and 2010. Naomi Wenitong also won Best Female Artist at the 2010 Deadlys and in 2012 TLK won the Deadly for Band of the Year. Naomi has also been nominated by Oz Hip Hop.com for Australia's best female MC in 2013.