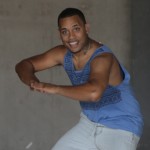 Ryka Satrick is a multi-talented young Indigenous performer. He is already a maestro in the art of Didgeridoo playing, having started performing from the age of seven. Ryka is also profound and dynamic in both mainland Aboriginal and Torres Strait styles of dancing.
Ryka's heritage comes from the mainland and the Torres Strait Islands. His Aboriginal background is from the Yidinji Tribe (Cairns) Wuthathi Tribe (Shelbourne Bay) and the Ku Ku Yalangi Tribe (Mossman) in North Queensland, and his Torres Strait roots are from Moa, Darnley, and Yam Islands. R
yka started his career as a 7 year old at Uluru and then spent two years abroad in the USA as a young entertainer. Ryka has just released self-titled CD featuring hip hop/urban sounds combined with the didgeridoo.