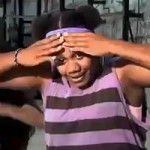 Move it Mob Style host Ghenoa's favourite style of dance is contemporary Indigenous dance.
She says she has been dancing since she "rolled out the cot" and has been a traditional dancer for over 25 years now. Her first taste of mainstream dance was when she attended NAISDA in 2005 where she studied for four years.
She says she has had many opportunities over the years and working with choreographers such as Shaun Parker has been the highlight of her career.
She has recently been touring around Australia with a show called Happy as Larry. She also does small gigs in communities where she teaches children Hip Hop. "I like to go back to my roots and I love teaching kids," she says. She especially enjoyed working with the deadly talent on Move it Mob Style.