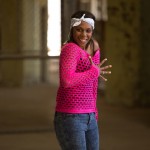 Shari Togo is a graduate of NAISDA Dance College who has gone on to work on many exciting and inspiring youth-based projects. In 2008, she worked on the CAAMA Dance 4 Life project – a week long dance and performance intensive for youth.
From 2008-2010, Shari was a team leader with the Incite Youth Art project where she mentored youth in
dance and other studies.
For the past few years, Shari has also been involved in Indigenous Hip Hop Project as a team leader teaching dance workshops at leadership camps.