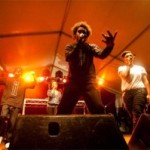 From the Brisbane suburb of Inala, the Indigenous Intrudaz are a popular Inidgenous hip hop group comprised of A-mon (Damien Bani), DCP (Douglas Patrick) and Zen-A (Zenith Bonner).
Their lyrics send out a message of empowerment and encouragement to young people. Their unique style of hip-hop is inspired by the everyday life of their community, the struggles and issues that young people face today and also the history and survival of Indigenous culture.
The group formed while in high school and began performing together around the suburbs of Brisbane at the age of 14.
They got their first break performing at the Stylin' Up Festival, Inala's annual Indigenous youth music and culture festival, and have also appeared at the Woodford Folk Festival and The Dreaming Festival.
To date, The Intrudaz's have performed support slots for major international hip hop acts such as Redman, Method Man and Blackalicious, and in 2005, they won the award for best Indigenous Group at the Music OZ awards.