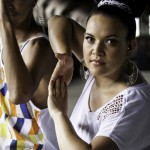 Jacqui was born in Cairns and has Aboriginal (Wuthathi – Drummond) and Torres Strait Islander (Thursday/Badu) heritage on her mother's side, and has ties with England on her father's side.
She started Torres Strait Islander dancing at the age of 10 and has continued this on and off throughout her life.
At the age of 14, Jacqui joined QL2 Centre for Youth Dance. Here she learnt and developed her skills in contemporary dance and choreography for 7 years. In 2008, she enrolled at NAISDA Dance College and completed her Certificate 4 in 2009.
In December 2012 Jacqui completed a Bachelor of Fine Arts (Dance) with Distinction at the Queensland University of Technology in Brisbane. Through this 3-year-course, Jacqui became competent in many styles of dance.
Jacqui is currently an advocate for BlakDance Australia Limited, a national performing arts organisation which advocates for Indigenous Contemporary Dance in Australia.
She also continues to have a strong relationship with QL2, acting as a mentor to youngIndigenous dancers in the Canberra community on a regular basis.