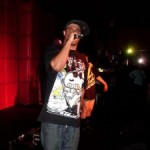 Tjimba Possum Burns plays guitar and didgeridoo with confidence and is joined on stage by Danny Ramzan who completes the duo with his strong natural sense of hip hop writing and producing.
The group has released their first single 'Just a Thought' from the album of the same name.
Melbourne film producer Josh Davis produced the official video, which was shot in and around the streets of Fitzroy and Collingwood.
Yung Warriors continues to actively support its community and lift the standards of the Indigenous urban/hip hop movement.
You can catch them on Myspace http://www.myspace.com/tjimbaandtheyungwarriors