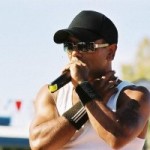 Wire MC, a Gumbayngirri descendant from Bowraville, on the mid north coast of New South Wales, has been bringing his country rebel beats to the city streets and country towns of Australia for more than a decade.
As well as performing at venues and festivals around the country, Wire MC has worked extensively with the community, travelling to remote communities around Australia conducting hip hop workshops for young Indigenous people.
He's also recorded tracks with numerous communities and with artists including Morganics and Sista Native. Defiant and lyrically brilliant, Wire MC sees hip hop as the "new corroboree" for young Indigenous Australians, who are looking for a way to express themselves and their culture in a positive way.