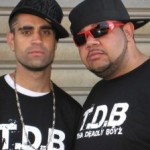 Stinga T and Big Sexy are an Adelaide/Perth based rap duo called Tha Deadly Boyz (TDB). They formed in 2006 out of the remains of Westside Boyz, because they were originally from WA.
The boys are cousins and have been performing together since 1999 beginning the duo while still in high school. They grew up listening to Rap music.
Originally they started out as an RnB combo, but they decided to steer more towards the Hip Hop/Rap genre.
TDB have written numerous songs and recorded a debut album called Unleash tha Nyoongars. As well as writing and recording, the boys have performed at many events including Blak Nite, Nunga Idol, Come Out Festivals, The Fringe and other small to big gigs around SA.
TDB's music is a blend of Street, Dance and Hardcore Hip Hop laced with RnB and commercial Rap all thrown into one mix. They are also on a compilation CD called Taste like Chicken with a song called Party Song. Their latest music clip for the song Rise has been released from their second  album West Ridaz.
Check out their website at http://www.thadeadlyboyz.com/