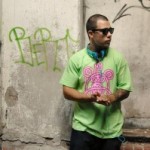 WA-born Knowledge Bones was spellbound by music from an early age, embracing a diverse range of artists. He also raps under the name Black Dundee – an ode to his Indigenous roots.
He is making a name for himself as one of the country's most promising MCs.
With his live performances continuing to gain him a loyal fan base and excitement surrounding his album release, Knowledge finds himself in the class of Australian hip hop heavyweights.
Aside from his musical endeavours, Knowledge wants to run workshops for Indigenous children in various communities around Australia.