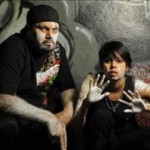 Karnage gains immense satisfaction from producing his own music. A proud Arrernte man, Karnage moved to Adelaide at an early age and started writing and developing his own rapping.
His introduction to the work of many well-known rappers led to an interest in free styling, rapping with others and writing tracks by the age of 13. After building on his production skills for over 10 years, Karnage is now working alongside Ngarrindjeri/Kokatha woman Darknis.
Darknis has always loved expressing hip hop music on stage. Performing about and for her people gives her gratitude and strength.