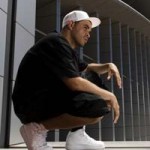 Jimblah is an Indigenous producer/MC/writer from Adelaide. He hails from the Larrakia nation up north and has been influenced by a wide range of different artists and genres, but his main passion is Hip Hop.
Jimblah has performed all over the country at various festivals and shows including the Big Day Out, The Dreaming and Good Vibrations.
He is the winner of the Hilltop Hoods Award and released his debut CD entitled Face the Fire earlier this year.
Check out some of his music at http://www.myspace.com/jimblah01