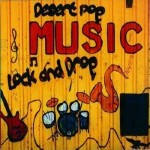 Desert Pop Lock & Drop was released by CAAMA Music in 2009.
It's the title track to an album of the same name which shows the versatility of our Central Australian singer/songwriters.
Desert Pop Lock & Drop features the sultry vocal style of Hermannsburg based singer-guitarist Cassandra Williams, and rhythmic tutor Mei Lae Swan. Cassandra has plenty of music running through her veins as the grand-daughter of legendary country and western hall-of famer Gus Williams, and the niece of NT singer/songwriter and multi instrumentalist Warren H Williams.
Cassandra's beautiful guitar playing matches her equally beautiful voice and she has performed with the Desert Divas which showcases emerging contemporary Indigenous female musicians and singers from Central Australia.