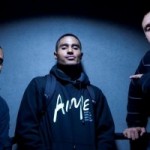 Stunna Set are a Hip-Hop group from Sydney's South.
Formed in 2007, Stunna Set comprises Reezy (Rhimi Johnson Page), Ali (Ryka Satrick) and Big H (Henry Edwards).
The Stunna Set guys grew up together and from a young age had the same interest in music; collaborating together on beats and rhymes and before forming the group.  They have been on the festival circuit lately and recently supported acts from across hip hop styles including Diplo, Amanda Blank, Urthboy and The Last Kinection.
Their debut EP "Against All Odds" was recorded in Gadigal Studios in Sydney and was co produced by Rhimi Johnson Page from Stunna Set and Sulo from the Herd.
You can follow them on Myspace http://www.myspace.com/StunnaSet01