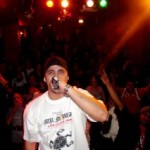 Corinthian Morgan aka Mr Morgz started writing and rapping in 2001 while he was incarcerated as a way to stay motivated. He has been honing his own unique style for the past 10 years and he links rapping to his healing.
He lists his influences as 2Pac, Outlawz, Ice Cube, Snoop Dogg, Dre, Bone Thugz, Dogg Pound, and WC. Morgz is with Payback Records. In 2008 he recorded his debut album Life On The Run in the Indigital Centre Studio with the help of Cappa Ak.
Recently, Morgz rocked the stage alongside Alter Egoz as the Opening Act for one of New Zealand's biggest Hip Hop artists – Savage. He is now working on his second album.
Check out his music at http://www.myspace.com/coombra