Hip Hop star Naomi Wenitong from The Last Kinection is back to co-host Move It Mob Style Series 3 which begins on NITV from 12 August and ABC3 from September.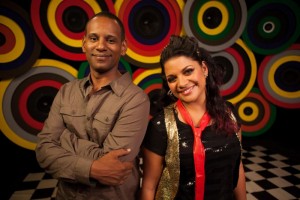 Naomi has been co-hosting with Brothablack since Series 1 of the popular high energy, dance-based youth, health and fitness TV show, and it's a gig she really enjoys.
"In the first season when I hadn't co-hosted before, I thought 'can I do this?'. But it's such a positive show for blackfellas with dance and music; it's so much fun to do," she says.
"I love the crew and Brothablack made it so easy for me. People really like all the elements of the show and it's just hard to ignore something that's so positive and creative."
"The whole vibe of the set is really cool. There's not one negative person there. How could you not like working on Move It Mob Style?"
The health focus of Move It Mob Style is particularly important, Naomi says.
The dance focus promotes getting active and living a healthy lifestyle.
"It's really important to get those health messages across to young people. That's when they take it in, when they're young," Naomi says.
For the hip hop singer/songwriter, the music is one of the aspects of Move It Mob Style she enjoys each week.
"It gives a voice to Aboriginal and Torres Strait Islander music – it's like a stage for musicians, and for dancers to be creative and perform at the highest standards. It's an important foundation for music, especially hip hop because it's not the most liked or accepted genre in the mainstream, especially Australian rap," she says. "So it's good for the wider commercial scene to respect hip hop and rap."
While Naomi is most well known for her hit songs and performances with The Last Kinection, she is starting to become recognised for her role on Move It Mob Style.
"It's always really good feedback and when I'm recognised and I'm not sure whether it's from The Last Kinection or the show, and they say 'you've got to move it. Mob style', I think how did I get to be a part of this? It's mostly parents who say their kids love the show and watch every episode."
Performing comes naturally to Aboriginal and Torres Strait Islander people, and Move It Mob Style puts a spotlight on the diversity of talent, especially the dancers.
"It's fusing traditional and hip hop. It's just mad. Whether it's traditional or contemporary dance, the show has done a lot for the genres. And it's something for our young dancers to aspire to," she says. "If you fully wake up and have the gift to dance, this show says: 'you can do it'. It's just really cool."