Move it Mob Style dance host Shari Togo first discovered her love for dancing when she was in high school before attending the National Aboriginal Islander Skills Development Association (NAISDA) Dance College for three years.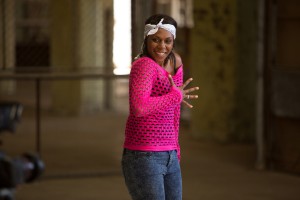 "It was a good experience. I did a lot of dancing and drama and graduated with a diploma, which was great. I'm still dancing today and NAISDA was amazingly good. It is a very unique school," Shari says.
As a dancer, Shari has previously had the opportunity to visit Aboriginal communities and share her skills and knowledge with children.
She has participated as a leader in the CAAMA Dance 4 projects, which was a week-long dance and performance intensive for youth, and from 2008 – 2010 Shari was a team leader with the Incite Youth Art Project where she mentored youth in dance and other studies.
Shari first appeared on season one of Move it Mob Style as a dancer and enjoyed the company of her family and friends during her first episode. "At first I was really nervous but once I got going and got into it, it was really fun," Shari says. "I first saw it on TV when it aired and thought it was pretty cool. I enjoyed seeing heaps of my family and friends dance on there; I thought that was the coolest thing."
This year, Shari is one of three dance hosts, which includes seasoned performer Darren Compton and Didgeridoo maestro Ryka Satrick.
Shari says that her favourite place to film Series 3 was by the water, at the pier of Darling Harbour. While dancing is a great way to build self-confidence and stay fit, there are plenty of other ways to maintain a healthy lifestyle.
"Dancing together builds confidence, so if we're all out there dancing together it's a big confidence booster," Shari says. "Getting out there with your family, playing, kicking a ball, going swimming, the beach, playing sport – are important for living a healthy lifestyle."
This season, viewers can expect a challenging assortment of dance moves and styles from right across the country. "It's going to be good; it's going to be exciting. There's lots of new routines coming and they're a bit more challenging but I think everyone's up for the challenge," Shari says.